Here are my works, listed by series. Please click on the title for more information. Detailed content notes and excerpts can be found on individual book pages.
---
Under His Heel series
Dark erotica set in a sci-fi world with legal slavery.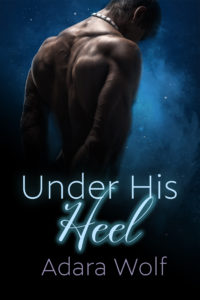 Under His Heel
Alex is trapped. His life has been one bad decision after the other, and now he's forced to work off his debt with a spaceship captain or risk a fate worse than death.
Captain Tracht is respected and well-connected. Unfortunately, he is also into some very questionable kinks, and makes no secret that he intends Alex to participate in them, whether he likes it or not.
It's an experience of pain, humiliation, and tears, but somehow Alex finds himself growing less and less interested in his eventual release…
Word count: 106,000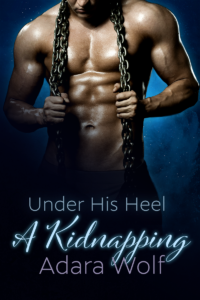 During what should have been a boring family affair, Alex is kidnapped while trying to protect Tracht's nephew. With Tracht's sister concentrating on getting her son back, nobody is thinking about Alex—except Tracht, who will stop at nothing to get him back.
Word count: ~20,000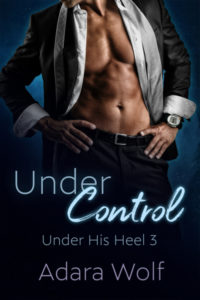 Agreeing to transport goods for a notorious crime syndicate isn't the best choice Tracht had ever made, but reneging on that deal could have dire consequences for him. When it all goes sour, it's up to Alex to pull Tracht out of the fire.
Word Count: ~57,000
---
Saga of the City by the Flowers

Set in a fantasy mesoamerican world, the Saga of the City by the Flowers follows the lives of men who catch the eye of gods. There are no Happily Ever Afters here.

In Life, In Death (Saga of the City by the Flowers, Book 1)
As a prince, Ahmiki knows that his purpose in life is to serve their city and help its people find prosperity. Until the night that he is named as the living representative of the god Teska'atl, to be sacrificed at the end of the year. Ahmiki has to endure one year of humiliating rituals, unpleasant ceremonies, and a fraught political landscape.
At least he can take some comfort in the handsome and strangely unbowed slave who has been assigned to him…
Word count: ~30,000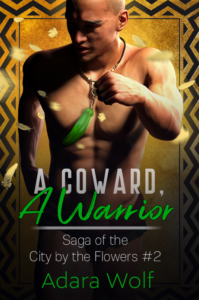 A Coward, A Warrior (Saga of the City by the Flowers, Book 2)
Tekokwa runs. He runs from his past, he runs from his future. He runs from himself.
He runs so far from civilization that he should be the only human around, but instead he finds himself living with Kwaotli, a mysterious young man who is one contradiction upon another. Kwaotli seems determined force Tekokwa to face himself, to let out the darkness that Tekokwa has tried so shard to suppress all his life.
Word Count: ~30,000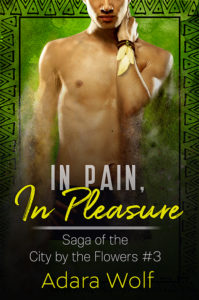 In Pain, In Pleasure (Saga of the City by the Flowers, Book 3)
Sekwistli's entire life revolves around sacrifice. He gives his blood to beg for rain, for the harvest, for prosperity. He sacrifices for their once flowering city. He sacrifices for the good of their dying land.
After a night of sacrifice goes too far, he meets a blind healer who attempts to heal him of more than just his physical ills. But sacrifice is ingrained in Sekwistli's soul.
Word count: 42,000